002: Position Yourself For Promotions | Bryan Boyce
In this episode
***Gold nuggets of wisdom from Air Force veteran who runs a business with 300 employees***
Recalibrate after the military
Don't settle for being average in corporate jobs
High demand for leaders with experience
Corporate world is not all suits and ties
Don't let corporate lingo shut you down
How veterans can position themselves for better jobs and promotions
Don't start at the bottom of the totem pole
Shortcuts up the job/corporate ladder
Download the guide: 45 Success Skills From The Military That Can't Be Learned In A Classroom
---
Bryan Boyce
"With their military experience, why not start at a manager level instead of entry level?" 
– Bryan Boyce
My guest on this episode is Bryan Boyce. This BBQ grill king, husband, father of 5, Air Force veteran and currently business operator with 300 employee serving major Fortune 500 companies…  He graduated from Utah State with a BS degree in Psychology and served in the US. Air Force and attended the Air Force Academy.  
He runs a customer call center business with 300 employees and provides the customer phone support for several Fortune 500 companies.  Most recently, they were awarded "The Best Team in the Business", in North America within his company due to their strong scorecard, revenue, and margin performance. Community engagement and service is a core element of his business and personal life.
His ultimate pride and joy is in his family. He and his wife (Jen), have 5 children and currently live in Blackfoot, ID. His hobbies include: working on his family ranch, hunting, fly fishing, camping, and Dutch Oven and BBQ/Smoker cooking.  He enjoys volunteering as a Board Member for Junior Achievement of Idaho, a Merit Badge Counselor and Varsity Assistant Coach for the BSA, and leads his teams to volunteer at the Idaho State Veteran's Home and Senior Activity Centers.
Connect with Bryan Boyce
Want More Awesomeness??
Sign up for new episodes
and more good stuff!
---
About Nic Transtum
Nic is a husband, father with 6 girls "oh help us all", adventurer, entrepreneur, author, speaker, coach, Veteran, Blackhawk Pilot- US Army.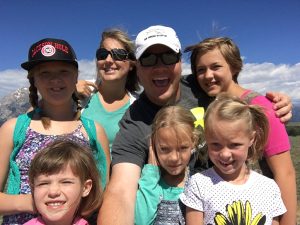 Nic has been to war and back on battlefields in the Middle-East...AND he's been to war in life after the military.
The UGLY TRUTH is he struggled deeply for years until he identified his next HVT in life and applied what he learned on the battlefield to achieving personal & business success.
Now he is dedicated to showing other veterans how to win at the next level after the military without struggling like he did... so we can all live the freedoms we fought for!